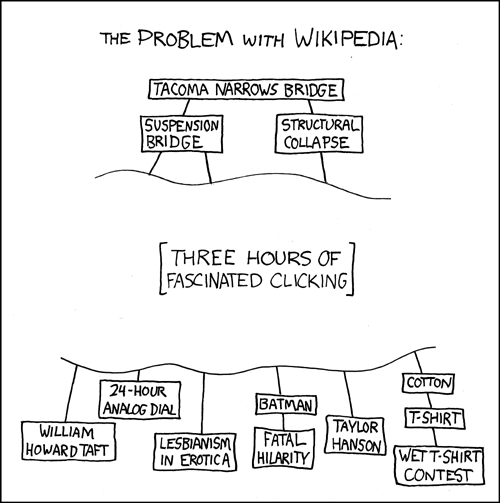 I understand that the Wikipedia has its problems, but I consistently find it to be one of the most thorough and quickest way to get information, further I love how transparent that information. You can read the arguments about the content on the given page and evaluate its credibility.
For the sake of argument, last week was the first time I had heard about the Jena 6 case. I heard a discussion of the incident on NPR on the way home from work. Once I got home I wanted to know more about the incident, but I found most of the news coverage to be thin, and it often repeated the same few details. Lucky for me the Wikipedia was right at hand. Take a look at how great this article is on the topic, spend some time considering how through the page is, and how many news pieces it links to. One of the most interesting points in the discussion for me is when various Wikipedians begin discussing the credibility of statements from NPR. All reporting, and all encyclopedia pieces represent a point of view, it is impossible for us offer a completely objective account (it is quite telling that the Wikipedia page on objectivity is in need of a expert on the subject), so isn't it ideal to have a conversation about the decisions in a article upfront and avaliable to any readers. If you have a problem with a Wikipedia article, bring it to the discussion page. Furthermore, consider the value of this history page for historians of the future trying to unpack the meaning of such and incident. (If you have time to read through the entire discussion page on the jena 6 it is well worth it.)
So we return to my title. The Wikipedia has been unbelievably successful. It already has systems in place to limit vandalism, so why is the Citizendium trying to fix something that just does not seem to be broken?